Panasonic IP Cameras
A frame from our lobby Panasonic MPEG4 web camera is shown to the right.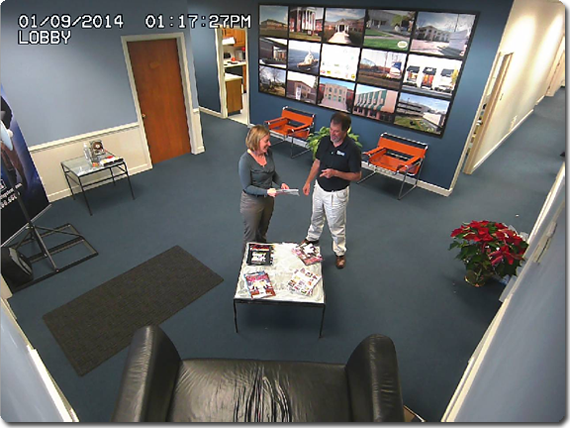 The camera's built in web server continuously buffers video and only stores frames with motion to it's (up to 64GB) SDHC card. We can play back video for the last 30 days. The camera can also copy video to our data center for remote storage.
Our Lobby Camera Video samples
230k/sec & 29 fps for 10 seconds – WMV
Door Latch and Access Control
Press a button on your Panasonic phone and the door latch releases. The visitor can now come into the building. Owners of a Panasonic telephone system can also call in remotely and unlatch a door when visitors come after hours!
Virginia DCJS # 11-5961
Door Intercom


The door box to the left is mounted at your door. Visitors press the illuminated button to call Panasonic system phones. Answer on any phone and establish a two-way conversation with the visitor. And with
the New Panasonic KX-NT400 IP telephone The same door call button can activate an on the phone view of any Panasonic IP camera!