Text Y'All – One # Group Text & Voice Conference
What does it do?
We assign your group a private telephone number. Let's say it's 804-555-1234.
Your team programs 804-555-1234 on their cell phones with the contact name of "TextY'all"
 Using 804-555-1234

Send a text to 804-555-1234 and the text is relayed to the team.
Call 804-555-1234 and the team is texted to call 804-555-1234 for an audio conference.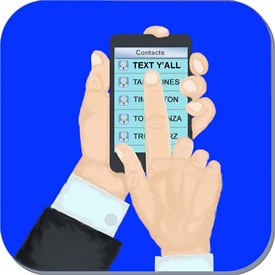 We fix the problem with Group Texting
Standard Group Texting
TextY'All
Security
Not secure. It is too easy to send to the group a text meant for just the first person on the list.
TextyAll is a separate contact in your phone book. Also, non members are denied access to the system.
List management
Cumbersome management.. Each cell phone in your group needs to be identically set up or users must retrieve an old group message to send a message again.
The group members are controlled by an administrator
Priority Notifications
You can't set a custom text tone (ring tone) for a group text.
Textyall messages come from your group dedicated telephone number. You can assign a custom text notification sound for this number!
Audio conference
(Some times we need to just talk!)
Not integrated.
It's the same telephone number to text or audio conference.
Group text message compatibility.
iphone and android have different group message schemes.
This is a platform independent messaging system.
Message logs
No common logs.
Common logs are kept on a server accessible by your group administrator.
Popular Uses of TextY'all:
Urgent and emergency notifications to your employees
Last minute changes to events.
Large group travel updates
Neighborhood watch advisories
Field security team tactical updates
After work spontaneous events: send out a text to call back that same number and hear about all the fun!