Text Y'All – Ridiculously Easy Group Text or Conference Call
TextY'All  – (verb) To text or call your assigned telephone number.
Call. You are instantly in an audio conference. All others are texted to join you.
Text. The text is broadcast to all.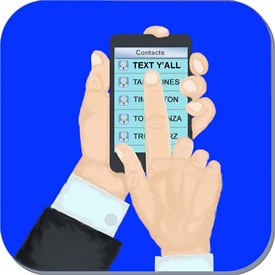 What does Text'YAll do better?
Audio Conference
Does not require a PIN number. Your Caller ID is the security code.
You can make it a speed dial on your cell phone. One touch, your in.
Group Texting
The group list is centrally managed
The text comes from your dedicated number so you can set a priority alert on it. (Only this beeps you at 4am)
It's secure. You won't accidently text to it nor will an old employee get the text.
Popular Uses of TextY'all:
Urgent notifications to your employees
Last minute changes to events.
Large group travel updates
Neighborhood watch advisories
Field security team tactical updates
After work spontaneous events: send out a text to call back that same number and hear about all the fun!