The Panasonic Rugged Wireless VoIP Phone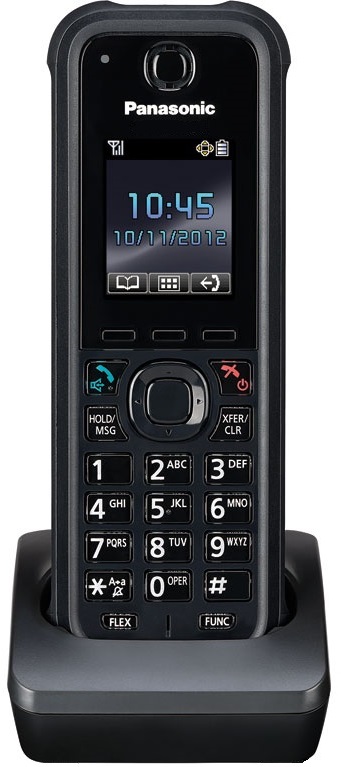 Rugged Rated and IP67 Water Rated

Industry Best 7 Year Warranty

Pairs With Your Desk Phone

Answers Intercom Calls Hands-Free

Integrates With Overhead Paging As Added Speaker

Answers All Pages With One Touch

Replaces Two-Way Radio Systems

Unlike Personal Cell Phones, It's All Business!
#1 Wireless Worldwide
Panasonic is the #1 brand in wireless and cordless phone sets according to consumerreports.org and google reviews. The reason dates back to Japaneses culture that had a disdain for voicemail. Thus, answering the phone immediately was required. Thus, Panasonic got an early start on the technology. Panasonic is a top rated electronics manufacturer. Thier quality of production allows us to back these phones with an optional 7 year manufacturers warranty. Any failure is covered unless the plastic case or circuit board is cracked or wet damaged.
Mobility Accessories
Wired or Bluetooth headset that brings the auto answer feature privately to your ears.
Drop lanyard that extends the life of the phone. It clips to your shirt or belt and to the phone to prevent a fumble from hitting the floor.
Arm sleeves and Neck lanyards when you can't wear a belt.